Traveling in the South of Italy, offside the usual tourist tracks, nearer to all secrets and beauty, riding fascinating English Vintage Convertibles. Along the old streets in the sleeping province, slowly, in order to permit the impressions to deposit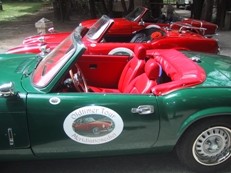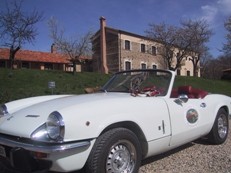 Traveling on the wings of time
The best holiday is the one in which you can fulfil one of your dreams.
A classical and stylish journey that leads into the originality and beauty of these traditional parts of Italy, while the past melts with the elegance of these "Old Ladies" and echoes in incomparable tastes and impressions that belong to former times.
As soon as you get on, your body clock will instinctively adapt the calm rhythm for these are not only vehicles for locomotion; they conserve the spirit of the past.
And with a light wind from the seaside on the face or in the middle of orange and jasmine perfume, passing the Osteria in a small village where the tables seem used up from the many conversations led in this place, wave people who do not hurry to live. In this way it is possible to forget at least for some time the mad rush of modernity.
Feeling involved traveling. The rhythm of this journey awakes the consciousness to enjoy the taste of experiencing with style. On roads that hold a great fascination you will discover precious treasures of the wine tradition and culinary culture.
While your eyes will fill with beauty, your spirit will fill with the genuineness of the people of Southern Italy, with tastes and perfumes, so you will feel raped into a journey on the wings of time.
"On the wings of time" VIDEO TG RAI